PREBLE DRAWS A SHORE BILLET
I'm glad to update you on a project that has been years in the making. Last weekend the refurbished transom stern of a fine warship (actually, just the part that has the name "PREBLE" welded on it) was installed in my house. Needless to say, at 11 feet long and 450 lbs., this 3/8" steel plate is a major piece of décor in the Cummings residence!
For those who may not know or remember, I was work center supervisor of the guided missile destroyer USS Preble. She was in service from 1959 to 1991 but wasn't scrapped until 2002. I had some spare money burning a hole in my pocket, so I contacted the ship breaker and instructed him to cut this piece off for me. It shipped in November 2002, the week after the sixth USS Preble was commissioned. Mine was the fifth Preble.
Work on the plate was delayed for one year due to a non-stop travel schedule and two moves. Significant work was accomplished in November 2003 but I was getting ill and had to stop until lately. Thanks to an ever-changing medicine regimen, I was able to work, albeit in short durations, and wind it all up.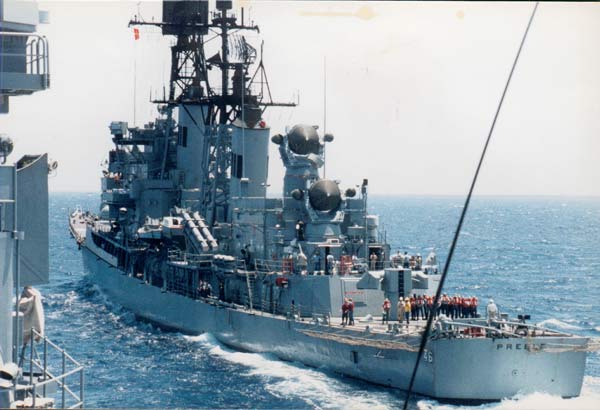 Here it is on it's original owner...
Arrival at my house...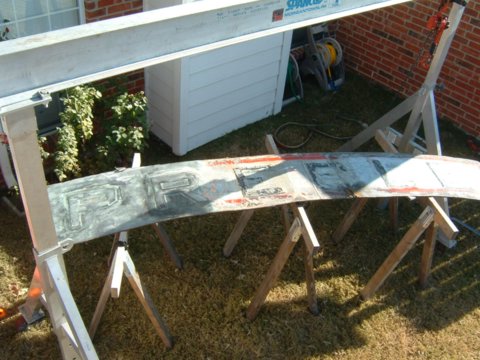 I'm STILL removing paint!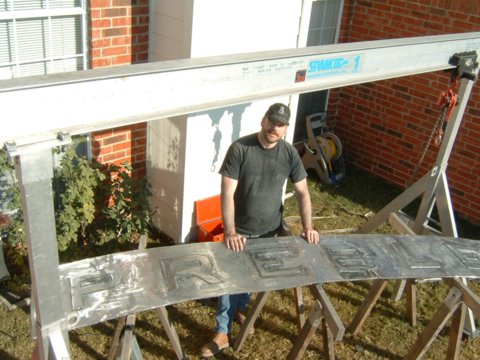 It's getting there...
The finished product.

[ Quarterdeck | Reunion Association ]

Please send comments/questions gmm1@usspreble.org
Copyright 1997 - 2018 Tom Bateman
This page was last updated on 02/19/05.